We Ship Fast! 
240€
Free Shipping to United States
Piks is a construction toy designed to stimulate children's development, concentration and creativity. The principle is simple: create the most original and impressive structures without dropping any part!
The cones, made of silicone in three different sizes and colors, grip the wooden baords: and challenge a whole new dynamic of play.
As an open-ended toy, Piks offers an infinite number of possibilities: free or guided play, competitive or cooperative, in autonomy or in groups …
Whether they let their imaginations run or challenge themselves by reproducing the models of the Creative cards, children develop their creativity, fine motor skills, decision-making, perseverance ... so many essential skills that can be strengthened ... by playing!
Piks Medium includes 44 pieces as a whole:
- 33 silicone cones (non-toxic)
- 11 solid wooden boards (beech wood)
- 1 instruction booklet (including examples of Creative Cards)
- 1 natural cotton bag OPPI®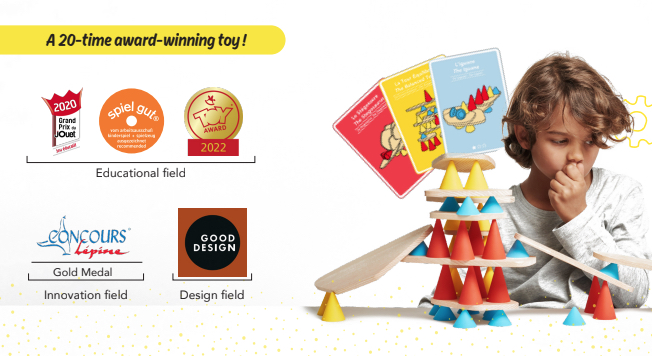 Created thanks to the collaboration of specilists, Piks has been developed to meet the concrete needs of children (as attention and concentration disorders -ADHD) and educational challenges of tomorrow.
By combining design and education, it allows the development of many skills, both motor, cognitive and psychological: concentration, imagination, fine motor skills, decision-making, planning, perseverance, self-esteem ... so many skills essential to development and well-being of children!
Children enjoy playing, experimenting and handling beautiful elements designed in noble and eco-responsible materials, also offering them a pleasant and surprising sensory experience.
Piks offers 4 main play modes:
1. Free play
The best rule is not to have any! Build the creation of your choice but remember this important and basic principle: you will always need at least three cones for a board to be stable.
At least three silicone cones for stability, the board of your choice on top and children's imaginations come to life! Heightly, horizontally, combined with other games or elements, Piks makes it possible to bring all their desires to life so easily

2. Figurative play
With Piks, you can also create a couple of animals and characters to play with. Use cones such as eyes or paws, a tray as a body and create all types of characters: frog, rhinoceros, monster, but also montain or bridge… replicate the models of the Creative cards or create new ones.
This mode of play invites children to recreate the models of Creative Cards (24 models of 4 levels of progressive difficulty - to allow children to progress step by step but also to challenge adults).Follow the cards step by step or memorize them before reproducing the chosen figure, this guided game mode also offers many possible variants.

3. The Piks Tower
Create the tallest tower without dropping any part! Try to place all the cones and boards you can. Three levels of difficulty are possible.
- The first: use the same types of cones per floor.
- The second: use at least two different types of cones per floor.
- The third: use the three types of cones possible per floor!
With this game mode, children can try to beat the record of the highest tower, alone or with a group. They can strategize, try, experiment, make mistakes, and use logic, reflection, and deduction to build the tallest tower. Self esteem will always be there.
4. The Battle of Piks
For 2 players and more
Challenge the balance with your opponents! Each player must place one floor in turn (3 cones and 1 board). The first one who makes the structure fall has lost. The last remaining player is the winner.
Children (and adults !) can play on a mode competitive, but also healthy and very funny! Each player can choose his or her strategy: stabilize the construction, put his or her opponents(s) in difficulty, build in width, height, rebalance, etc.